Scythians, Warriors of Ancient Siberia exhibition opens in London
/ Главная / Russkiy Mir Foundation / News /

Scythians, Warriors of Ancient Siberia exhibition opens in London
Scythians, Warriors of Ancient Siberia exhibition opens in London

14.09.2017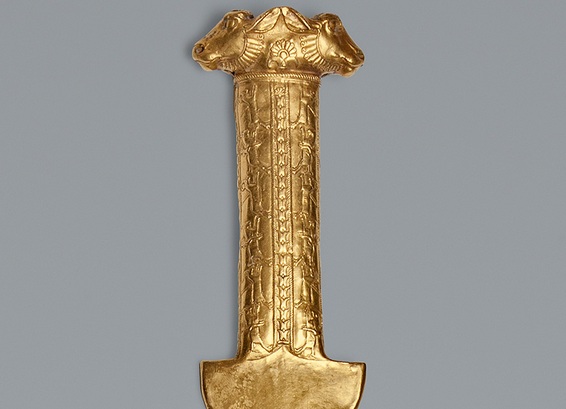 Discoveries of Scythians and their treasures are on the view at
The British Museum
in London. The exhibition visitors will have a chance to acknowledge many new facts about nomadic horsemen who ruled an empire stretching from the Black Sea across Siberia to the borders of China for more than 1,000 years - from as early as the 900 BC to the 800 and 700 centuries BC. Scythians, Warriors of Ancient Siberia exhibition contains more than 200 objects from Hermitage Museum funds, RIA Novosti reports.
According to the Hermitage museum director Mikhail Piotrovsky, there are no written evidences about the nomads but there are many artefacts that prove them to be not only skilled fighters and horsemen but also gifted artisans and jewelers. Piotrovsky has added that apart from famous golden pieces some new objects issuing from recent archaeological excavations in Siberia and Altai are installed for the first time.
Along with arts, crafts and jewelery, the basket with cheeses aged more than 2000 years, fragments of human tattooed body parts, horse masks and many other remarkably interesting objects created by Scythians are on the view.
The exhibition curator John Simpson has stressed that this exhibition is a great chance to see an example of the very high-level work of Russian archeologists and Russian science in general.
The exposition is open until the middle of January, 2018.
Russkiy Mir
The new law "On Education" passed by the Ukrainian parliament essentially forbids citizens from receiving an education in any language other than Ukrainian. Beginning on 1 September 2018, students will only be able to study in Russian or the languages of other national minorities before the fifth grade. And beginning in 2020, Russian, Hungarian, Romanian, and other languages will be removed from the lower grades as well. Chairman of the Board of Directors of the Russkiy Mir Foundation, Vyacheslav Nikonov, reflects on how this trend meshes with Ukraine's attempt to become a full-fledged European country.